Image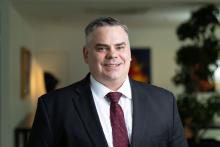 Ross Smith
Job Title
Program and Technical Director, IPSASB
Ross leads the IPSASB staff team in their work to develop International Public Sector Accounting Standards (IPSAS).
Since joining the IPSASB staff in 2013 Ross has led the development and implementation of the IPSASB's governance activities, and the establishment of the IPSASB Consultative Advisory Group. Ross also oversaw the IPSASB's projects related to financial instruments accounting and the development of the IPSASB Strategy and Work Plan 2019-2023.
Prior to joining the IPSASB, Ross worked for several years for a big-4 accounting firm in Canada and Japan. Ross focused on complex accounting and audit assignments related to public utilities, industrial companies, and financial institutions. Ross is a Canadian Chartered Professional Accountant.