Image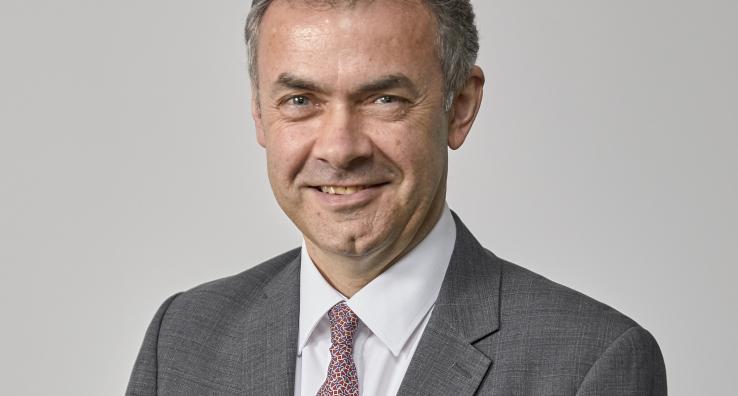 Message from the IPSASB Chair
The threats to the world and its citizens from climate change are well publicized. Yet, despite significant government influence over the global economy, there is no internationally recognized public sector reporting framework to guide how they measure and report their critical contributions to addressing the global climate emergency.
Public sector-specific sustainability reporting guidance would encourage transparency, allowing governments to be held accountable for the long-term impacts of their interventions, and enabling better-informed decision-making. Reporting on climate change is therefore one of the most important issues in sustainability reporting, which also encompasses environmental, social and governance issues.
The World Bank's January 31, 2022 report, 'Sovereign Climate and Nature Reporting,' provides welcome further impetus to the critical issue of advancing sustainability reporting in the public sector. The report statistics that sovereign bonds make up almost 40% of the US$100 trillion global bond market is particularly striking. Together with the fact that national public sector expenditure is often the same percentage or more of GDP, this underlines both the urgency and importance of filling the current guidance gap.
What the IPSASB is Doing Now
At its December 2022 meeting, considering the urgency of this issue, the IPSASB decided to commence the scoping of three potential public sector specific sustainability reporting projects pending securing the resources needed to begin guidance development. This decision builds on IPSASB's 25 years of public sector standard setting experience as well as the strong global stakeholder support for the proposals in its Consultation Paper, Advancing Public Sector Sustainability Reporting.
The IPSASB's immediate action will be to establish a Sustainability Task Force to lead this first critical phase of research and scoping. The Board's prioritized research topics are:
General Requirements for Disclosure of Sustainability-related Financial Information,
Climate-Related Disclosures, and
Natural Resources – Non-Financial Disclosures (in parallel with the development of financial reporting guidance proposed in its Consultation Paper, Natural Resources).
Existing IPSASB Guidance 
In terms of public sector reporting, the IPSASB has already provided strong foundations for reporting on programs addressing both climate change and the SDGs in its Recommended Practice Guideline (RPG) 3 on 'Reporting Service Performance Information'. This can be applied now, together with RPG 1 'Reporting on the Long-Term Sustainability of an Entity's Finances' which can be used to bring together the financial impacts of non-financial metrics and risks being managed. 
On May 9, 2023, the IPSASB issued Reporting Sustainability Program Information—Amendments to RPGs 1 and 3: Additional Non-Authoritative Guidance which can be immediately applied by governments and public sector entities to report on sustainability program information. The additional guidance is intended to support the implementation of the key areas highlighted in the OECD paper Green Budgeting: A Way Forward.
Funding Opportunities
The feedback we've received from stakeholders around the world is clear: the public sector needs its own specific sustainability reporting framework and the IPSASB should lead its development. But in addition to our existing expertise, it is a fact that we will need additional support, both financial and otherwise, from the global community before we can take on the development of global guidance that would equip the public sector with the tools necessary to report on climate change and other sustainability issues.
The additional resources needed to take forward the development of public sector specific sustainability reporting guidance would need to be sufficient to enable the IPSASB to establish a small, highly qualified, dedicated technical staff team to lead sustainability reporting guidance development, as well as to support stakeholder engagement and the operations of a new Sustainability Reference Group.
The IPSASB is committed to the principle of diversified funding over time and envisions that any new sources of funding would be earmarked deployment for the specific purpose of advancing its sustainability work, rather than its financial reporting guidance program. Any such additional sustainability reporting funding arrangements would be required to preserve and not interfere with the independent decision making of the IPSASB in its work.
Image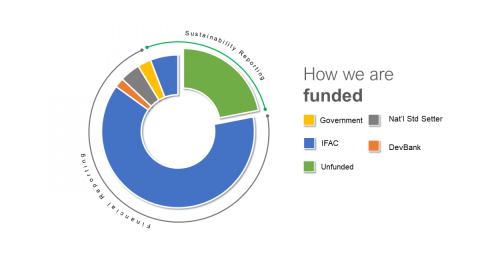 To contribute financial or other support to the IPSASB for the development of global public sector specific sustainability reporting guidance, please email Ross Smith, IPSASB Program and Technical Director (rosssmith@ipsasb.org) or James Gunn, Managing Director, Professional Standards (jamesgunn@profstds.org).
IPSASB Related Guidance
The following guidance has been issued related to climate change and sustainability reporting: 
Sustainability Reporting Guidance