Image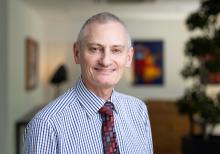 Todd Beardsworth
Todd Beardsworth, FCA, became a member of the IPSASB during 2018 to fill a casual vacancy. He was nominated by the External Reporting Board in New Zealand.
He is currently the Assistant Auditor-General, Audit Quality at the Office of the Auditor-General, where he is responsible for leading the Office on all audit quality matters. This includes ensuring that auditors are appointed and supported to carry out high quality audits of public sector entities on behalf of the Auditor-General.
He has worked in the New Zealand public sector for more than 20 years, mostly at the Office of the Auditor-General. Mr. Beardsworth's roles in standard setting include six years as a member of the Financial Reporting Standards Board from 2003 to 2008, and two and a half years as a member of the New Zealand Accounting Standards Board between 2016 and 2018. Also, he worked for the External Reporting Board as the Director of Accounting Standards from 2014 to 2015. During 2015, he provided technical support to Angela Ryan, a former member of the IPSASB.
He has a bachelor's degree in business studies from Massey University in New Zealand.
His Technical Advisor is Anthony Heffernan.