Image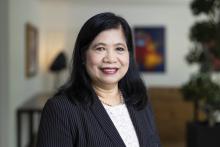 Luzvi Chatto
Ms. Luzvi Chatto joined the International Public Sector Accounting Standards Board in January 2019. She was nominated by the Commission on Audit (COA), the Supreme Audit Institution of the Philippines, and the Philippine Regulatory Board of Accountancy. She returned as an independent member in 2022 following her retirement from the COA. 
Ms. Chatto is the retired Assistant Commissioner of the Commission on Audit (COA). During her career spanning 41 years with the COA, Ms. Chatto also led audits of various government agencies, the United Nations and its agencies in New York, Pakistan, Costa Rica, Nicaragua, Ivory Coast, and Guinea, and foreign-based Philippine government agencies. She also headed COA's Human Resource Management Office, Information Technology Office, Cordillera Administrative Region, Accounting Systems Development and Other Services Office, and Government Accountancy Office.
Ms. Chatto has been actively involved in and immensely contributed to the conceptualization and implementation of the Philippine Public Financial Management Reform Roadmap since 2010. She was COA's focal person in the 2015/2016 Public Expenditure and Financial Accountability Assessment conducted by the World Bank Group. She is an IntoSAINT (INTOSAI Self-Assessment on INTegrity) Moderator; a member of various inter-agency committees including the PFM Committee, Budget and Treasury Management System Steering Committee and Technical Working Group on Government eReceipt and ePayment Project; a member of the Philippine Institute of Certified Public Accountants and Government Association of Certified Public Accountants; and Executive Vice President of the Government Financial Management Innovators' Circle, Inc.
Ms. Chatto is a Certified Public Accountant. She graduated from the Baliuag University with a Bachelor's Degree in Commerce (Cum Laude) in 1977 and obtained her Graduate Diploma in Development Administration from the Australian National University in 1997 as an AusAID scholar.