Image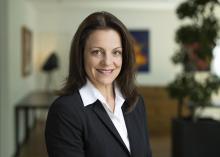 Renée Pichard
Renée Pichard, CPA, became a member of the IPSASB in January 2021. She was nominated by CPA Canada. Ms. Pichard is an advisory partner at Deloitte Canada, with over 28 years of diverse professional and executive leadership experience in the public and private sectors. Prior to joining Deloitte, Ms. Pichard held the position of Assistant Auditor General at the Office of the Auditor General of Canada, where she spent 17 years developing expertise in advising public sector clients on complex accounting transactions under IFRS as well as Canadian and International Public Sector Accounting Standards.
Previously, Ms. Pichard spent the first part of her career as an auditor at Deloitte and as Director, Corporate Finance for a global public telecommunication corporation.
Ms. Pichard was a technical advisor with the IPSASB between 2013 and 2019. She has also contributed to the establishment of auditing and accounting standards in Canada as a member of various task forces.
Mrs. Pichard graduated from the Université du Québec en Outaouais in 1993 and received her accounting designation in 1995.
Her Techical Advisor is Sayja Barton.