Image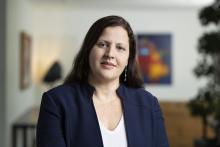 Patricia Siqueira Varela
Patricia Siqueira Varela became a member of the International Public Sector Accounting Standards Board in January 2020. She was nominated by the Conselho Federal de Contabilidade (CFC), responsible for the regulation and representation of accounting professionals in Brazil.
Prof. Varela is currently a researcher and a professor at the University of São Paulo (Brazil) in the School of Economics, Business and Accounting. She has supervised students in the Program of Postgraduate Studies in Controllership and Accounting and is the leader of the research group Center of Studies in Accounting and Government. Her research and publications focus on public sector accounting and public policies performance.
Prof. Varela also performs the role of standard-setter as a member of both the Advisory Group for the Brazilian Accounting Standards for the Public Sector Accounting at Conselho Federal de Contabilidade and the Technical Committee linked to the National Treasury which is responsible for issuing mandatory standards for public sector entities in all federation levels (municipalities, states and central government).
Prof. Varela holds a master's and a doctor's degree in Controllership and Accounting from the University of São Paulo, and a postdoctoral degree in Public Administration and Government from the Getúlio Vargas Foundation in São Paulo.
 Her Technical Advisor is Ayres Moura.