Image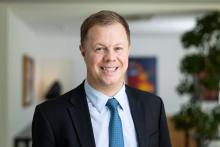 Marc Wermuth
Job Title
Technical Advisor for Claudia Beier
Marc Wermuth became a technical advisor for Claudia Beier, IPSAS board member of Switzerland, in January 2022. His assignment is sponsored by the Swiss Federal Finance Administration (FFA). He previously served as a board member of IPSASB from 2016 to 2021. From 2014 to 2015 he was the technical advisor of the former Chair, Prof. Dr. Andreas Bergmann.
Marc Wermuth works for the Fiscal Policy, Fiscal Equalization and Financial Statistics division of the FFA where he is responsible for methodological issues concerning the general government sector financial statistics of Switzerland (Federal Government, Cantons, Municipalities and Social insurances).
Previously, he served within FFA as a senior accounting policy advisor, where he was responsible for the development and implementation of accounting policies based on IPSAS within the Swiss Confederation and has been involved in various fields aimed at enhancing the accountability and reporting of the administrative units.
Mr. Wermuth graduated from the University of St. Gallen in Switzerland with a Master's Degree in Accounting and Finance in 2004. He holds a diploma as a certified IFRS Accountant.