Image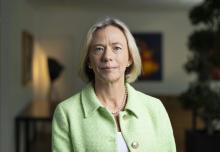 Lynn Pamment
Lynn Pamment was appointed as a member of IPSASB in January 2019.  She was nominated by the Chartered Institute of Public Finance and Accountancy (CIPFA).
Ms. Pamment is Comptroller & Auditor General for Jersey, an appointment she took up in January 2020.  Prior to her appointment in Jersey she was a lead partner in PwC UK's Government and Public Sector Assurance practice where she gained over 30 years experience of working in an assurance and advisory capacity with public and private sector organisations in the UK and beyond.
Ms. Pamment is a first class honours graduate from the University College Cardiff.  She is a prize winning member of the Institute of Chartered Accountants in England and Wales (ICAEW) and is also a member of CIPFA.
Ms. Pamment has led a number of high profile reviews on behalf of the Government in Wales.  She is also the Chair of the Financial Reporting Advisory Board to HM Treasury in the UK.
Her Technical Advisor is Henning Diederichs.