Image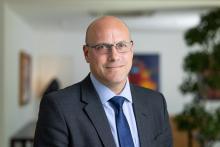 Henning Diederichs
Job Title
Technical Advisor for Lynn Pamment
Henning Diederichs became the Technical Advisor to the UK member of IPSASB in January 2019. He was nominated by the Consultative Committee of Accountancy Bodies (CCAB), an umbrella group of chartered professional bodies of British qualified chartered accountants (ICAEW, ACCA, CIPFA, ICAS and Chartered Accountants Ireland).
Mr. Diederichs is a technical manager, specializing in public sector financial reporting in the Financial Reporting Faculty at the Institute of Chartered Accountants in England and Wales (ICAEW). His role includes the preparation of draft comment letters in relation to national and international public sector financial reporting issues, with primary focus on IPSAS. He also contributes to ICAEW's literature on wider public sector financial management.
Mr. Diederichs has over ten years of technical accounting experience in both the public and private sectors. Before joining ICAEW in 2015, he helped construct and implement the Whole of Government Accounts (WGA) consolidation process at the UK's Ministry of Finance, specializing in intra-governmental transactions and balances. Prior to that he worked for Barclays PLC in their group finance division covering areas such as goodwill, credit risk, joint ventures and associates.
Mr. Diederichs is a fellow of ICAEW and graduated with a BA in economics from the University of Essex (UK).