Image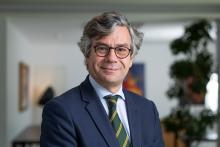 Baudouin Griton
Job Title
Technical Advisor for Hervé-Adrien Metzger
Baudouin Griton, a French certified public accountant, is technical advisor to Hervé-Adrien Metzger. He previously served as technical advisor to Mr. Metzger's predecessors since 2009.
Mr. Griton is an audit partner with KPMG France, where he has been working in the Infrastructure and Government sector for more than twenty years. He is the partner in charge of the audit of the International Bureau of Weights and Measures' Financial Statements and Pension scheme, an international organization located in Paris that prepares its financial statements using IPSASs, as well as the signing partner of a couple of the largest listed company in France.
Since 2007, he has also been a member of the working group in charge of translating IPSAS Standards into French. Mr. Griton additionally serves as a member of numerous working groups of the CNoCP (the French Public Sector Accounting Standard Setter) and is a member of the KPMG International IPSAS panel.
In previous roles, Mr. Griton has led PCAOB Standards for seven years, US GAAP and GAAS doctrine department of his firm, and served as lead partner on major international French listed groups. He has experience as MBA professor with the Institut d'Etudes Politiques de Paris, Deputy Chief Editor of the monthly review of the French founding member organization of the International Association of Financial Executive Institutes, and has authored multiple articles on accountancy and auditing. 
Mr. Griton is a graduate of the Institut d'Etudes Politiques de Paris of France and of the University of Paris in Economics.