Image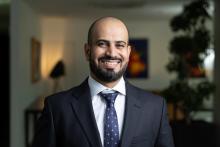 Abdullah Al-Mehthil
Mr. Abdullah Al-Mehthil became a member of the International Public sector Accounting Standards Board in January 2022, nominated by Ministry of Finance, Saudi Arabia. Mr. Abdullah Al-Mehthil is an Assistant Undersecretary - Deputyship of Accounts & Finance in the Ministry of Finance; he is heading the country's Cash to Accrual program.
Mr. Al-Mehthil has more than 20 years of in-depth experience across the public and private sectors in the areas of financial planning, risk management, corporate governance, digital transformation, and accounting & control. Prior to joining the Ministry, Mr. Al-Mehthil worked for leading conglomerates in Oil & Gas and automotive industries. Mr. Al-Mehthil sits on the Boards and Audit Committees of leading companies in KSA.
Mr. Al-Mehthil holds a master's degree in accounting and Information Systems and a bachelor's degree in accounting & Business Administration from the University Of Kansas. In addition to completing a Leadership program in Insead Business School, Mr. Al-Mehthil is a Certified Public Accountant in the US & Certified Public Accountant in Saudi Arabia.