Image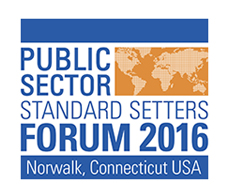 The Governmental Accounting Standards Board (GASB) recently worked with the International Public Sector Accounting Standards Board (IPSASB) in holding an inaugural event that assembled key public sector standard setters from around the world in Norwalk, Connecticut, to build a dialogue, exchange ideas, and discuss critical issues in standard setting.
The first-time event brought together over 70 participants from 22 organizations with standard-setting responsibilities in more than 30 countries.
"The participants' involvement, engagement, and insights made this inaugural event a great success," said GASB Chair David Vaudt. "As national public accounting standards setters, we all benefits from sharing thoughts, ideas, and lessons learned. We were honored to have been able to work with the IPSASB on this important initiative."
"By providing a consistent approach to government financial reporting, as well as through the increasing global momentum towards their adoption, International Public Sector Accounting Standards (IPSAS) are playing a critical role in strengthening global public financial management" IPSASB Chair Ian Carruthers added. "We hope the enthusiastic participation of the attendees can provide the foundation for the increased dialogue and cooperation that will enable the international public sector standard setting community to work increasingly closely together in addressing the challenges we all face consistently."
The forum provided attendees with the opportunity to discuss current IPSASB projects with the board's members and staff:
Social benefits;
Revenues;
Non-exchange expenses;
Heritage assets;
Infrastructure assets;
Public sector measurement; and
Leases.
Additionally, issues outside of the IPSASB work plan were also discussed:
"IPSAS lite" (IPSAS for small and medium-sized entities);
Tax expenditures;
Natural resources accounting;
Consolidation;
Financial performance measures;
Service performance reporting; and
Implementation issues.
Based on the success of the inaugural event, the IPSASB is planning a second forum. This is to be held in Zurich, Switzerland July 3-4, 2017.
About the IPSASB
The IPSASB develops accounting standards and guidance for use by public sector entities. It receives support (both direct financial and in-kind) from the Government Accounting Standards Board, the Asian Development Bank, the Chartered Professional Accountants of Canada, the South African Accounting Standards Board, the New Zealand External Reporting Board, and the governments of Canada, New Zealand, and Switzerland.
About the Governmental Accounting Standards Board       
Established in 1984, the GASB is the independent, private-sector organization based in Norwalk, Connecticut, that establishes accounting and financial reporting standards for U.S. state and local governments that follow Generally Accepted Accounting Principles (GAAP). These standards are recognized as authoritative by state and local governments, state Boards of Accountancy, and the American Institute of CPAs (AICPA). The GASB develops and issues accounting standards through a transparent and inclusive process intended to promote financial reporting that provides useful information to taxpayers, public officials, investors, and others who use financial reports. The Financial Accounting Foundation (FAF) supports and oversees the GASB. For more information, visit www.gasb.org
About IFAC
IFAC is the global organization for the accountancy profession, dedicated to serving the public interest by strengthening the profession and contributing to the development of strong international economies. It is comprised of more than 175 members and associates in more than 130 countries and jurisdictions, representing almost 3 million accountants in public practice, education, government service, industry, and commerce.
The 'International Public Sector Accounting Standards Board,' 'International Public Sector Accounting Standards,' 'Recommended Practice Guidelines,' 'International Federation of Accountants,' 'IPSASB,' 'IPSAS,' 'RPG,' 'IFAC,' the IPSASB logo, and IFAC logo are trademarks of IFAC, or registered trademarks and service marks of IFAC in the US and other countries.