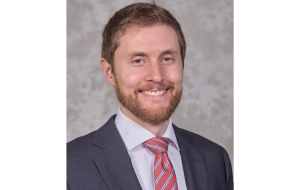 What attracted you to IPSASB when you joined?
Prior to joining IPSASB, I worked at a national standard setter. One of the things that attracted me to IPSASB—and I did a short secondment for a about a year before I joined full-time—was the can-do attitude both IFAC and IPSASB have. If you have a new idea, you are encouraged to try it out and see what happens. It's empowering and it appealed to me as a mechanism of moving processes forward. That is something that stuck out to me during the interview process as well as during my secondment. It's a big reason why I joined.
Were you surprised by anything once you became an employee?
IFAC and IPSASB have large footprints. Before I joined, I thought the organization was a lot larger in numbers. I'm always surprised how much of an impact IFAC and IPSASB make with the resources that they have. From an IPSASB perspective, we have less than 10 technical staff and we able to move complex projects forward in a timely manner while maintaining quality. I don't think this is very visible from the outside.
What is your role at IPSASB?
I am the Director of the IPSASB. The way I see it, my role is to support the principals and senior managers and their projects where I can. When you're working on your own project, you're in the weeds, you're focusing on the technical issues specific to your project, and it's difficult to stick your head up and see what's going on around the organization. I work across projects, so I'm able to work with the project managers and bring them together to make sure they see the forest through the trees.
I also ensure that our relationship with the actual IPSASB is strong. It is very important that the IPSASB staff has a strong connection with all the ISPASB board members—particularly the chair—and any of the technical advisors that support them. On a regular basis I'll have calls with the members to make sure that staff are aligned on the direction that the IPSASB wants to take any projects we're working on.
Finally, I focus much of my effort to make sure that our stakeholders are engaged and knowledgeable regarding the latest IPSASB developments and publications. This includes speaking to them on a regular basis and attending various outreach events.
What does a workday look like for you?
My workday has changed a little since we've gone more virtual. It includes more calls, more stakeholder outreach, and more outreach to the board. Because we're all more comfortable working in a virtual environment, it's easier to have this kind of communication.
I work in the New York time zone, so my morning are spent corresponding with our European based chair and participating in outreach events in Europe and Africa. Most afternoons, I focus on my project work and talk with the other IPSASB staff on how their projects are going. Late afternoons align with when our stakeholders in Asia and Oceania are waking up, so any outreach with this jurisdiction happens during this part of the day.
What's your favorite part about your job?
First, I believe in what I do and see an importance to the IPSASB. I think it's important that governments around the world have standards that they can apply that help citizens make decisions and evaluate how decision-makers are performing. I see a lot of value in that, and I see importance in my role.
The second aspect—and this is a little more personal—I've spent my entire career in accounting, and I always thought what I'd enjoy the most was the technical accounting. During my time with the IPSASB, I realized it's actually the problem solving that I enjoy the most, and the accounting just brought that out. While I do love the accounting, what I like more is there is often two or three answers. None of them are right and none of them are wrong and the work lies in developing a consensus with the IPSASB--what is the right answer for our stakeholders? That's my favorite part of this role.
What's the most unique part about working here?
What I find unique is our global footprint, despite our size. We have a very broad base across the globe, so I get to interact with people from all different cultures. I didn't get this opportunity when I was working in my Canada bubble. I'm based in Toronto and at the start of my career, I was interacting with Canadians the most. But as soon as I came to the IPSASB, I got to work with these different people. I hadn't appreciated the different ways of thinking, or different ways of arriving at conclusion, that exists across the world. And I mean that absolutely in a positive way. It's been a learning curve understanding not just that people hold different viewpoints but understanding where those ideas come from and how they intersect with our work.
It's been fun and challenging to navigate these differences.
What kinds of resources have you taken advantage of?
IFAC has been very supportive in my career development. Not only me, but the entire IPSASB staff. More than once a year we will have career development sessions such as trainings on writing, meeting management, or people management, for example. 
How has your career grown since starting at IPSASB?
I joined in 2018 as a manager, a year later I was promoted to principal, and then in 2021 I moved up to Director of the IPSASB. I've really enjoyed my time here and have learned a lot along the way. I've seen my career grow with the IPSASB and I don't know what to say other than it's been a really good fit.
What would you do for a career if you weren't doing this?
Outside of work I love to watch movies. Anything that would allow me to watch movies as a profession is probably where I would be if I was not in accounting.
Where is your favorite place in the world?
I am from Vancouver, and I still have a lot of family in Vancouver, so it's always nice for me to go back to see my parents and see how the places have changed since I grew up there. I love the west coast. The weather is milder there than the east coast so any time I have the opportunity to go back, I take it. I love the outdoor activities, the skiing, the friends that I grew up with, and just catching up with family.
How do you spend your days off?
I have two very young daughters, so I am basically pulled around to whatever they want to do whether it's the zoo or the aquarium or keeping myself updated on the plot of Frozen for the one hundredth time. That's how I spend my time off.
Back to Open Positions